CeBIT 2007 Impressions
Our booth

On 60m² we showed among a Porsche GTR, 15 different CarPCs, 30 displays and accessoiries.


The tower

Focus of the booth was the more than 5 meters height and 3,5 meters wide CarPC-tower, which enabled the visitor to test all CarPC-systems and see differences on the TFT displays.


The car

As Eyecatcher we showed this Porsche GTR (700PS), which was equipped with an InDash-CarPC and MM400 -V2- 7" VGA Touchscreen TFT Display.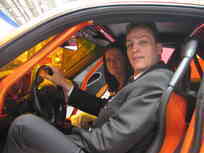 Voom Cabrio

For the interested visitor we offered an internal view into the special-made Voom-"cabriolets".


Thank you !

We thank you for your visit !