Toyota Land Cruiser Experience
The car

Installation example of a carpc in the Toyota Land Cruiser HZJ 78 of Rico. The car will be used as an expedition-vehicle eg. in Africa in fall 2005 and there will be special types of navigation programs.


The carpc

This system will be used :
- 7" VGA Touchscreen USB Deckendisplay [click]
- GPS USB [click]
- Travla C134 [click]
- Via M10000 [click]
- 256MB SlimRAM 0.8" DDR [click]
- 2,5" 40GB HDD [click]
- DVD Slot-IN [click]
- CarTFT DC/DC [click]
- Slim-to-IDE Adapter [click]
- MiniKey [click]
- iCT (inCar Terminal) [click]
- FM Modulator [click]



The installation

It was intended to mount the PC on a roof clipboard and to install a fold-away TFT 7" roof-mounted display at the bottom side. The clipboard is sawed out of a 9mm thick screen printing plate. The holes for on the right and left side will be used for additional speakers.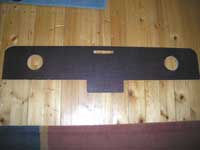 For the power supply I modified a 3-connector power outlet, which now has 2x plus and 1x ignition plus. I have fitted all cables for the power supply (secured in the fuse box in the engine compartment) in a 4 hour campaign in the A-pillar. In the A-pillar there now are the cables for :
- CarPC Plus +
- Ignition Plus +
- 2 x Chinch(RCA) for FM Modulator
- Speaker cables
- Solar cable to the battery
- Additional tank display and enlightment for it
- Outter-temperature-display for Multiuse-display
- Aerial cable for radio communication

I do not like it, when you can see cables ! :-)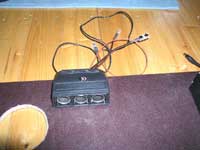 Now the roof clipboard is upholstered and installed. The display was fixed and the cables for the integrated read lamps connected. Power connection for the PC and display.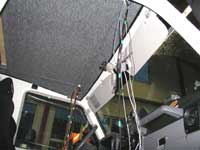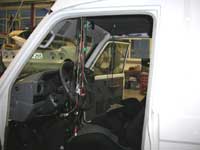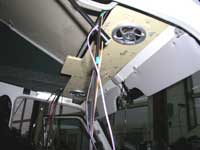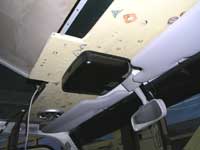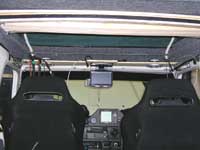 The PC is to be fixed finally on the clipboard. The whole cabeling now was shortened to the needed lenghts. Power supply of the display is now connected to an additional switch. The FM modulator is installed, but not yet connected : the 12V needed for the modulator will come from the car amp. But this will be done later.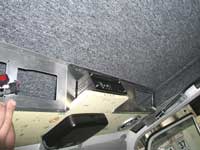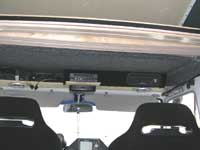 In fall 2005 you will find pictures of the car in the desert !

The car also is available for the public at these dates :
9.-10.7.05 at Toms vehicle-meeting - Infos : http://www.toms-fahrzeugtechnik.de/treffen.htm
8.-11.9.05 at Buschtaxi-meeting - Infos : www.buschtaxi.de