VIA AMOS-825 Industrial-PC/CarPC (1.0GHz i.MX 6Quad Cortex-A9, 9-36VDC, 1GB RAM/16GB eMMC) [FANLESS]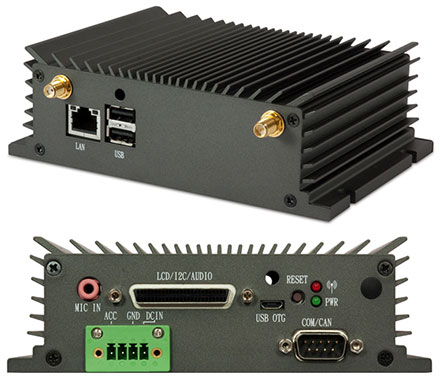 Enhance commercial fleet safety and efficiency with the AMOS-825 system Powered by a 1.0GHz NXP i.MX 6Quad Cortex-A9 quad-core SoC, this fanless small form factor system has been specifically designed for demanding compute-intensive fleet management, navigation and infotainment applications. Featuring a 1.0GHz NXP i.MX 6Quad ARM Cortex-A9 quad-core SoC, the VIA AMOS-825 delivers a highly-capable and power-efficient system for compute- and multimedia-intensive in-vehicle infotainment and navigation applications.

With its 3G networking support (provided separately through an optional expansion card) and its rich connectivity, the AMOS-825 can serve as a powerful data collection [more]



569.00

EUR


incl. 19% VAT, plus shipping


Available in 3 weeks
Enhance commercial fleet safety and efficiency with the AMOS-825 system Powered by a 1.0GHz NXP i.MX 6Quad Cortex-A9 quad-core SoC, this fanless small form factor system has been specifically designed for demanding compute-intensive fleet management, navigation and infotainment applications. Featuring a 1.0GHz NXP i.MX 6Quad ARM Cortex-A9 quad-core SoC, the VIA AMOS-825 delivers a highly-capable and power-efficient system for compute- and multimedia-intensive in-vehicle infotainment and navigation applications.

With its 3G networking support (provided separately through an optional expansion card) and its rich connectivity, the AMOS-825 can serve as a powerful data collection and control center on the go within vehicles. GPS, Wi-Fi, Ethernet, USB, COM, and HDMI ports make connecting devices very easy. A completely fanless system with a ruggedized design and automotive compatible power options make it into your one-stop solution for in-vehicle applications.


Model Name
AMOS-825
Processor
1.0GHz NXP i.MX 6Quad Cortex-A9 quad-core SoC
System Memory
1GB DDR3 SDRAM onboard
Storage
16GB eMMC Flash memory
Boot Loader
4MB SPI Flash ROM
Graphics
Vivante GC2000 GPU
3 independent, integrated 3D/2D and video graphics processing units
Graphics engine supporting OpenGL® ES 2.0, OpenCL and OpenVG™ 1.1 hardware accleration
Supports MPEG-2, VC-1 and H.264 video decoding up to 1080p
Supports SD encoding
LAN
Micrel KSZ9031RNX Gigabit Ethernet transceiver with RGMII support
Wi-Fi/Bluetooth/GPS
IEEE 802.11b/g/n Wi-Fi
Bluetooth 4.0
MAX-7 u-blox 7 GPS/GNSS
Audio
NXP SGTL5000 low power stereo codec
USB
SMSC USB2514 USB 2.0 high-speed 4-port hub controllers
CAN
TI SN65HVD1050 EMC optimized CAN transceiver
Expansion I/O
1 miniPCIe slot
Front Panel I/O
1 Micro USB 2.0 OTG port
1 9-pin D-sub connector (supports 2 CAN bus and 1 COM TX/RX for debug)
1 SCSI 50-pin D-sub connector (Backlight power, Dual-channel LVDS, 4 GPIO, I²C, Line-out and Mic-in)
1 Mic-in
1 Reset button
2 LEDs for power & WPAN/WWAN/WLAN status
1 Antenna hole
1 4-pole Phoenix DC jack
Back Panel I/O
2 USB 2.0 ports
1 Gigabit Ethernet port
2 Antenna connectors for Wi-Fi/BT and GPS
Power Supply
9 ~ 36V DC-in (typical: 7W)
Operating System
Android 6.0
VIA Smart ETK
Watchdog timer, CAN bus
Operating Temperature
0°C ~ 60°C
Operating Humidity
0% ~ 90% @ 45° C (non-condensing)
Vibration Loading During Operation
With onboard eMMC 7Grms, IEC 60068-2-64, random, 5 ~ 500Hz, 1hr/axis
Shock During Operation
With onboard eMMC 70G, IEC 60068-2-27, half sine, 11ms duration
Bottom Opening Covers
Open window with removable door plate to access Micro SD and miniPCIe slots
Mechanical Construction
Aluminum top chassis housing Metal chassis housing Dual removable front & rear metal face plate
Mounting
Wall/DIN Rail/VESA mountable
Please
login
for creating product ratings.
Your rating:

Please tell us your opinion. Rate the product on a scale from 1 to 5. A value of 5 means the best possible rating. If you want you also can leave a comment.

Your ratings are honored on many ways. Your report will help other customers to better judge about the products. And you can benefit from reports other customers are giving.

In addition we credit 0.50 EUR for each given rating with comment and 1.00 EUR for each given rating with comment (more than 150 characters) on your account. The credit will be substracted automatically on your next order !

We reserve us the right to delete given comments (for example on attempts to give comments with senseless content, copying of other comments, inserting of foreign content, abusing the system for financing orders). "Fair-use-policy" does apply (as of rule of thumb you should give comments for products which you have purchased already. And your credit account only in rare cases will have 2 or even 3 digits). The credit can only be withdrawn by placing an order. It is not possible to get the credit cash or transferred in an other way.

39.95 EUR
incl. 19% VAT, plus
shipping
In Stock

24.95 EUR
incl. 19% VAT, plus
shipping
In Stock
Description
Specifications
Data sheets and downloads
Customer ratings
Assembling options