Quectel RM510Q-GL 4G/LTE/5G M.2 NGFF Modem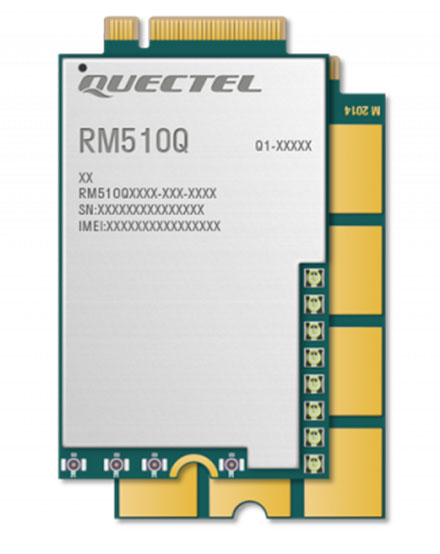 RM510Q-GL is a sub-6GHz and mmWave M.2 5G IoT module measuring 52.0mm × 30.0mm × 2.3mm which meets the 3GPP Release 15 specification and is optimized for IoT/eMBB applications anywhere in the world. It supports both standalone (SA) and non-standalone (NSA) modes, and also supports LTE category 22 connectivity. The RM510Q-GL is compatible with Quectel's LTE-A category 6 module EM06, category 12 module EM12, and category 20 module EM20, enabling customers to migrate from LTE-A to 5G. The module optionally features integrated GNSS (GPS/GLONASS/BeiDou/Galileo) for rapid and precise positioning, while integrated eSIM optionally allows remote account provision without needing to open th [more]



349.00

EUR


incl. 19% VAT, plus shipping


In Stock (13 pcs)
RM510Q-GL is a sub-6GHz and mmWave M.2 5G IoT module measuring 52.0mm × 30.0mm × 2.3mm which meets the 3GPP Release 15 specification and is optimized for IoT/eMBB applications anywhere in the world. It supports both standalone (SA) and non-standalone (NSA) modes, and also supports LTE category 22 connectivity. The RM510Q-GL is compatible with Quectel's LTE-A category 6 module EM06, category 12 module EM12, and category 20 module EM20, enabling customers to migrate from LTE-A to 5G. The module optionally features integrated GNSS (GPS/GLONASS/BeiDou/Galileo) for rapid and precise positioning, while integrated eSIM optionally allows remote account provision without needing to open the device. The RM510Q-GL supports nearly all major carriers worldwide and is ideal for globally deployed mobile devices including industrial routers, industrial PDAs, rugged tablet PCs and digital signage.


Worldwide 5G and LTE-A coverage
Supports both NSA and SA modes
Compatible with Quectel's LTE-A Cat 6 EM06, Cat 12 EM12 and Cat 20 EM20
Supports MIMO
Integrated eSIM (optional)
USB 3.1 / PCIe 3.0 high speed interface
Multi-constellation GNSS receiver available
Feature refinements: DFOTA and VoLTE (optional)
Form Factor
 LGA
Dimensions (mm)
41.0 × 44.0 × 2.75
5G
Sub-6 GHz
 Frequency Bands (MHz)
 5G NR Bands: n1/n3/n5/n7/n8/n20/n28/n38/n40/n41/n77/n78 LTE bands: LTE-FDD: B1/B3/B5/B7/B8/ B20/B28/B32 LTE-TDD: B38/B40/B41/B42/B43 WCDMA Bands: B1/B5/B8
Region
 EMEA/ Oceania/ Brazil
Operating Temperature
-30°C ~ +75°C  
 Extended Temperature
 -40°C ~ +85°C
Control via AT Commands
 3GPP TS27.007 and Quectel Enhanced AT Commands
Data Transmission
5G SA Sub-6: Max. 2.1Gbps (DL)/ Max. 900Mbps (UL) 5G NSA Sub-6: Max. 3.3Gbps (DL)/ Max. 600/650Mbps (UL)2
 
LTE-FDD: Max. 2Gbps (DL)/ Max. 200Mbps (UL)
 
WCDMA: Max. 42 Mbps (DL)/ Max. 5.76Mbps (UL)
Interface
 (U)SIM 2, 1.8V/3.0V
UART: 3
USB: 2.0/3.0/3.1
PCIe Gen3 x 2 Lane
Cellular Antenna: × 4 + 2 (Optional), GNSS: × 1
Enhanced Features
VoLT Optional
DTMF - Dual-tone Multi-Frequency
DFOAT - Delta Firmware over the Air GNSS: GPS/ GLONASS/ BeiDou/ Galileo
 Software Features
Driver for Windows 7/8/8.1/10, Linux 2.6~5.8, Android 4.x/5.x/6.x/7.x/8.x/9.x/10



 Certifications
 CE/RCM/GCF
Please
login
for creating product ratings.
Your rating:

Please tell us your opinion. Rate the product on a scale from 1 to 5. A value of 5 means the best possible rating. If you want you also can leave a comment.

Your ratings are honored on many ways. Your report will help other customers to better judge about the products. And you can benefit from reports other customers are giving.

In addition we credit 0.50 EUR for each given rating with comment and 1.00 EUR for each given rating with comment (more than 150 characters) on your account. The credit will be substracted automatically on your next order !

We reserve us the right to delete given comments (for example on attempts to give comments with senseless content, copying of other comments, inserting of foreign content, abusing the system for financing orders). "Fair-use-policy" does apply (as of rule of thumb you should give comments for products which you have purchased already. And your credit account only in rare cases will have 2 or even 3 digits). The credit can only be withdrawn by placing an order. It is not possible to get the credit cash or transferred in an other way.
Description
Specifications
Data sheets and downloads
Customer ratings